Becoming tech's go-to travel tastemaker: 2 ways Safara created a social growth engine to 2x conversion rates and 12x social capital
Insights from

Michelle Fang
Head of Social at Safara
Favorite features
Audience reports, Lists, and Workflows
Safara is all about creating magic moments through travel, giving you 10% back on every hotel booking and curating the best hotels and properties from first-hand experience or extensive research.
Michelle Fang, Head of Social, extends the same high-curation philosophy and leans into data to be precise and impactful with her social strategy, using drops, partnerships, and engagements to get folks traveling with Safara.
---
Opportunity: Position Safara as *the* travel tastemaker and find high-intent customers and leads.
Newsletters have become a critical content outlet for brands and creators, who come with their own dedicated communities — but knowing which ones out of the thousands to partner with is time consuming and leaving a lot to chance.
Michelle wanted to focus on newsletters in the VC/founder/operator space as she's seen traction for both work and vacations stays with this segment.
She initially searched Substack and Beehiiv for popular options, but soon realized that even if you're partnering with a top newsletter, if your audience isn't already plugged into it, that partnership will will waste your budget with little to show for it.
---
Solution: Leverage Notus to identify top newsletters that resonate with Safara's target audience and lean into high-ROI drops
Prioritize ideal partners with Safara's Audience Report and boost engagement:
With Notus's "newsletter" search, it took Michelle minutes to make a list of top 100 newsletters that their target audience was engaging with, as well as Safara and Michelle's relationship to the authors (i.e. seeing that some had already followed them or engaged with their content).

From there, Michelle narrows in on Turner Novak's The Split and Meagen Loyst's The Gen Z POV as top newsletters for Safara's target customers.

Because these two newsletters not only have great viewership, but also align with Safara's ideal customer persona, this kept engagement high long after the newsletter launch and drove meaningful conversion.
It also allowed Safara to remain authentic and highly curated with clear audience-fit. This resulted in 2x higher conversion rate and lower cost per signup.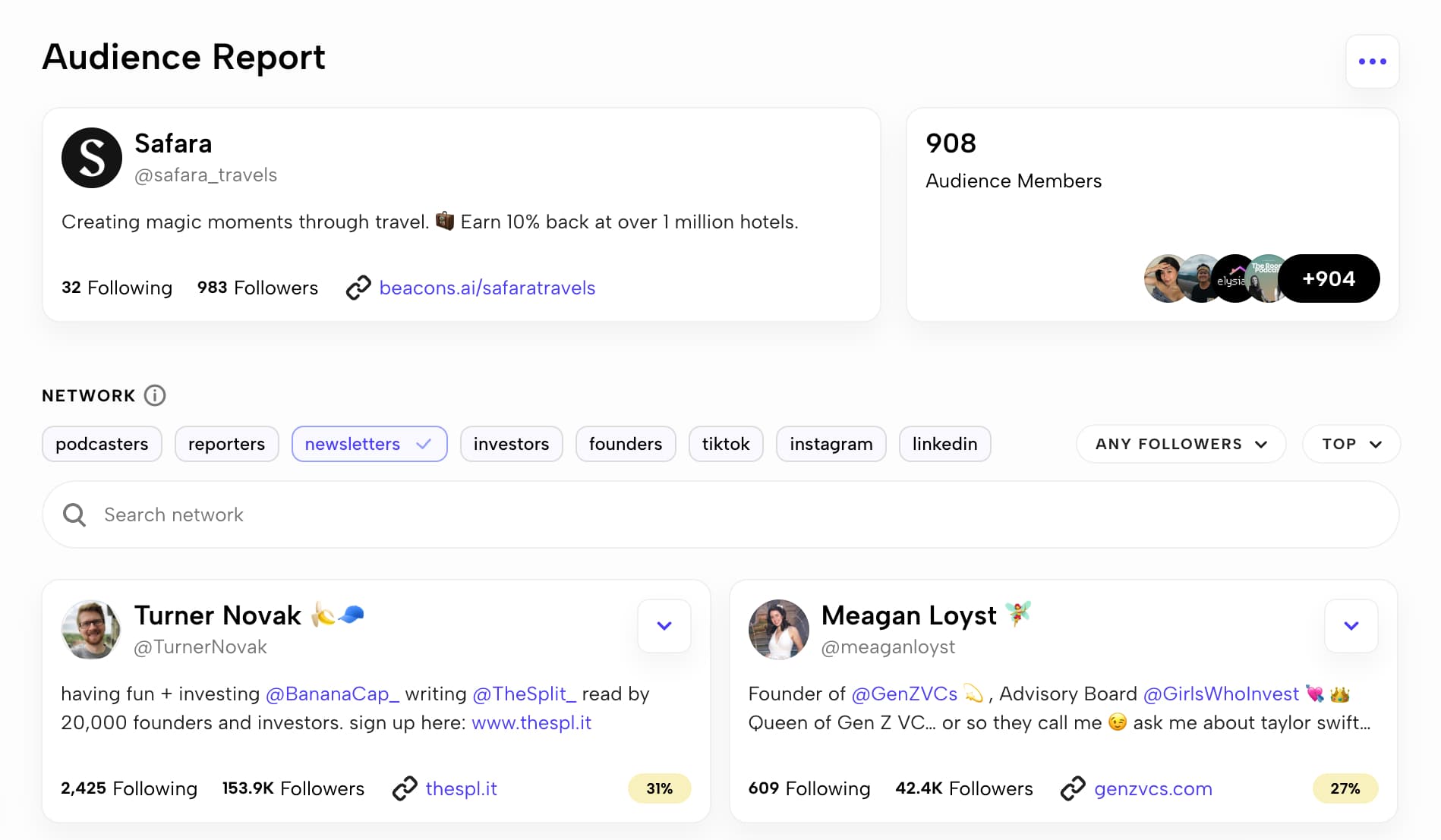 "Biggest value is more visibility into conversations that matter. With Notus, you unlock deeper insights into relationships and context that make your work 100x more impactful."- Michelle Fang
Be your own best partner: strategize drops with Notus Lists and Workflows:
Using automated, AI-enabled Workflows to get relevant, high-intent engagement opportunities in real time, Michelle becomes an omnipresent personal concierge, strategically dropping suggestions for vacation spots.

Knowing exactly where you can add value to your future advocates and leads as they are talking about relevant subjects not only saves hours of time, but also creates a powerful organic social motion.

With Notus, Michelle increased audience engagement, app downloads, and has directly resulted in booked trips with VIP clients.

Travel planning changes with seasons, so it's critical to continue monitoring the success of these cohorts using Lists within Notus Research.

Lists help better understand how user engagement evolves and get alerted for what's top of mind and find re-engagement opportunities for cohorts in real-time.
---
Key takeaways
Using Notus, Safara was able to:
Automatically put together a short list of ideal audience-fit partnerships and partner with confidence that their budget isn't going to opportunities that don't reach or resonate with their target audience.
Find new advocates and leads to join your community and become customers.
Turn their organic social into revenue and increase bottom line.
---
By the numbers
12x
Increase in social capital
2x
Higher conversion & lower cost per signup from newsletters identified on Safara's Audience Report
Safara started its Twitter account in mid January and has scaled it up as one of their highest performing and low cost platform of acquisition
Pair that with real-time engagement and drops, and that has helped the Safara team hit 2.25M impressions across all social in the first 5 months of 2023 and directly led to sales.
Book your next stay with Safara (code notus25 for $25 off your next trip), and make sure to follow @safara_travels and @michelleefang for great travel tips and to get plugged into the SF tech scene!
Ready to find high-ROI media partners your audience actually pays attention to?